Archive for September, 2012
Today I wish to post about Dinosaur the ride at Disney's Animal Kingdom. This is by far one of my favorite attractions and in my opinion a little under appreciated! Situated within DinoLand U.S.A. in Disney's Animal Kingdom Theme Park, Dinosaur offers up one of the most unique ride experiences.
Rides are taken on an prehistoric journey utilizing Disney created "Dynamic Ride Vehicle" referred to in this attraction as a "CTX Time Rover" and some of the best Disney created Dinosaur animatronics. Your mission is to travel back in time to rescue an Iguanadon before the meteor that wiped out the dinosaurs strikes. There may be more to the mission, but you'll just have to take the journey to find out!
Many people ask what the CTX Time Rover is like, so I describe it as a motion simulator (think Star Tours/Body Wars) that navigates through an electric guided track course. If you haven't experienced this before, you will be amazed. The technology never gets old.
Note: This is a dark-ride and "could" be a little scary for the young-ins. The attraction includes loud sounds and extremely realistic dinosaur animatronics.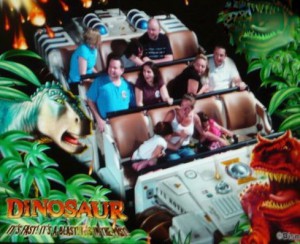 Picture of my wife and I riding Dinosaur!