Archive for January, 2013
I have always loved Disney but lately my love for Disney has turned into an obsession. I blame it on my DH. He used to go to Disney every year as a kid and when we met I only been to Disney twice ( and stayed off property both times). He decided that I need to go again so so we went. That was 2006 and since then we been to Disney 8 times (not including day trips). We stayed at Pop Century which was my first time at Disney property and had a ball. I'm thinking I'll start another thread to quickly summarize the previous 8 times, but this will be my Trip Report of our latest trip in August 2011. We already booked two more trips, one in March at Port Orleans Riverside (the only moderate resort we did not stay in yet) and in October on our very first Disney Cruise. I'm super excited about that because it will be on the DISNEY FANTASY!!!!!
We live in Plainview, NY and we always fly into West Palm Beach because that's truly where our vacation begins. Steve's parents have a vacation house there so we always spent a couple of days there before driving to Disney. (They keep a car at the house at all times, so it saves on car rental.)
We originally booked this trip to last from August 22nd to August 26th with a stay at Animal Kingdom Lodge but woke in panic a couple of months before realizing that it is just not enough time. We booked this trip as a bounce back promotion with our resort heavily discounted. When Steve allied Disney to add another day, that promotion no longer applied. We decided to use our Starwood points and added another day with a stay at the Swan. This turned out great as I love the Epcot Resorts( we stayed at the Yacht Club last summer and loved it!) Through our Animal Kingdom Lodge package we also had a Deluxe Dining Plan as we are BIG foodies.
I just want to include a picture of our baby staring at the luggage angry that we are leaving…
Day 1- August 21st
We have a vacation house in West Palm Beach, so usually we drive to WDW early in the morning so we can have a full day. We woke up at 6:00 AM so excited to get on the road. After a couple of YEE HAW signs which we love because that's how we measure how close we are. We saw the SIgn for OSCEOLA parkway.
We got off the exit, and soon passed these trees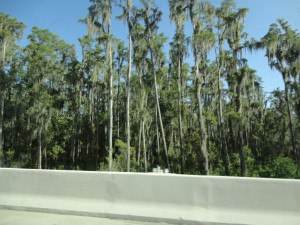 Steven loves these trees, he said it makes him feel like he is in an enchanted forest.
And soon we see this…
YAY!!! WE are here. We followed the signs to the Epcot resorts and arrived at The Swan.
Steve loves the Westin hotel because he adores their signature smell White Tea. When we entered the lobby, they most have just changed their cartilage because we were enveloped in the smell. Our room was ready and we quickly ran up without unpacking as we were upgraded. The views from our balcony…
Yep.. thats Expedition Everest!
We were sooo eager to get to Epcot, we decided to unpack later. So, we started on our walk..
We arrived to EPCOT thru the world showcase and decided to go on Test Track first. Single Riders lane was only 10 minutes so we jumped on that. I LOVE Test Track. It's probably my most favorite ride in EPCOT. It was great as usual. Please excuse my appearance, I'm wearing my travel clothes…
Mission:Space, however, is something I literally can't stomach. Steve finally convinced me but I only agreed if we go on the green team.
We then decided to check out Ellen's Universe of Energy. We passed the old Wonders of Life Pavilion. Steve is obsessed with it.
After Ellen, We did a couple of more rides. Soaring was fun as always and Living with the Land was great. We also did nemo and spaceship earth. We started getting hungry and decided to stop by the Yacht Club and get some lobster rolls at Captain's Grille. They were delicious as always! Sorry no pictures but I made up for that later. After lunch, we decided to go back to the Swan and go to the pool.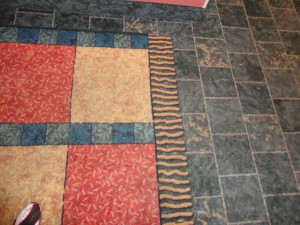 We thought carpet at the Swan was pretty cool.  The swan pool was actually really fun! They have a Grotto and it flows like a mini lazy river. I would definitely recommend using it if you stay at the Swan or Dolphin. After the pool, we decided to take a mini nap before dinner. When we woke up, Steve decided he did not want counter service for dinner so he called to see if there were any Epcot restaurants available.
Stopping by the imagination pavilion before dinner. (How 80s is Captain EO)
We ended up going to Tokyo Dining and having a bunch of sushi tools as we are both huge sushi fans. We then walked around World Showcase.
We watched illuminations and went back to the Hotel. We were moving tomorrow and checking into Disney's Animal Kingdom Lodge!!!
Day 2, August 22nd
We woke up bright and early for our move to the Animal Kingdom Lodge. I have wanted to stay in this hotel as soon as I set eyes on it sooo I was beyond excited!!! We checked out of the Swan and went to Hollywood Studios as we decided to check in right at lunchtime. The reason for this is because we had ADRs at Sanaa. We quickly grabbed fast passes for Toy Story Mania. After that we went on The great Movie Ride and Tower of Terror as I'm obligated to do it multiple times a trip!
We drove to the Lodge and when I saw this,
I almost cried!
We quickly checked in and found out that we were upgraded from Savannah view to Arusha Rock view. Yay more animals! We were giving our room and mu obsession with taking pictures officially started!!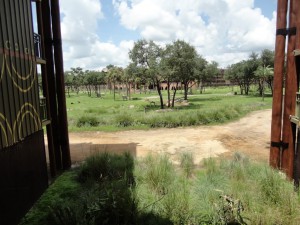 After we to to our room, I continued to snap away.
We finished checkin out the room, and decided it was a good idea to take a shuttle to Kidani Village to check into Sanaa. There was a huge line for a bus to Animal Kingdom, they really need to build a walkway or something.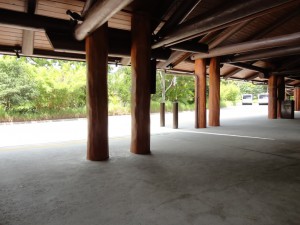 We arrived at Sanaa and checked in. This was the thatched ceiling in the lobby that Steven found interesting.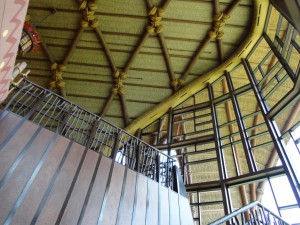 We were seated pretty fast. The restaurant is breathtaking and the views were unbelievable so I continued snapping away.
We had samosas for appetizers which were absolutely delicious. For entree Steve had Beef Short Ribs and Durban Chicken with basmati Rice.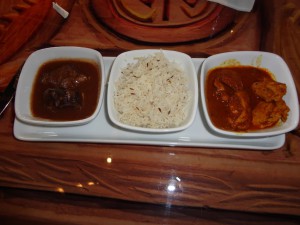 that was absolutely delicious!
I had Shrimp with Green Curry Sauce and Chicken with Red Curry Sauce with Basmati Rice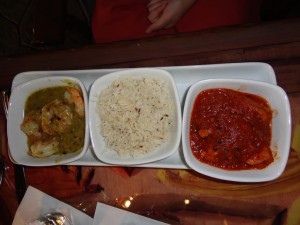 which was amazing as well!