Archive for category Disney's Animal Kingdom
One of my favorite attractions at Disney's Animal Kingdom Park is Rafiki's Planet Watch. This area, formerly known as the conservation station, features several sections where you get a backstage view of the animal wellness center and even play with them in the affection area.
Within the Conservation Station, visitors are able get an up close look at how the park keeps the animals healthy. The veterinary Treatment Room offers large windows where you can witness routine veterinary procedures as well as emergency operations. After the daily procedures have been completed, visitors are able to intact with the veterinary doctors and nurses in a Questions and Answers session. The procedures are usually conducted in the morning so be sure to get there early!
The Conservation Station also houses the Animal Encounters Stage, Nutrition Center, Nursery, Amphibian and Reptile Center, and even Character Greetings!
At Rafiki's Planet Watch, you won't want to miss the "Affection Section", an animal petting zoo that features a varsity of animals including goats, sheep, cows, pigs, and others. My favorites are the goats and sheep!
Rafiki's Planet Watch and the Conservation Station are accessible by the Wildlife Express Train. The railway departs from the station in Africa roughly every 10-15 minutes. The railway is an attraction in itself that takes you behind the African Savanna at Disney's Animal Kingdom Park.
Today I wish to post about Dinosaur the ride at Disney's Animal Kingdom. This is by far one of my favorite attractions and in my opinion a little under appreciated! Situated within DinoLand U.S.A. in Disney's Animal Kingdom Theme Park, Dinosaur offers up one of the most unique ride experiences.
Rides are taken on an prehistoric journey utilizing Disney created "Dynamic Ride Vehicle" referred to in this attraction as a "CTX Time Rover" and some of the best Disney created Dinosaur animatronics. Your mission is to travel back in time to rescue an Iguanadon before the meteor that wiped out the dinosaurs strikes. There may be more to the mission, but you'll just have to take the journey to find out!
Many people ask what the CTX Time Rover is like, so I describe it as a motion simulator (think Star Tours/Body Wars) that navigates through an electric guided track course. If you haven't experienced this before, you will be amazed. The technology never gets old.
Note: This is a dark-ride and "could" be a little scary for the young-ins. The attraction includes loud sounds and extremely realistic dinosaur animatronics.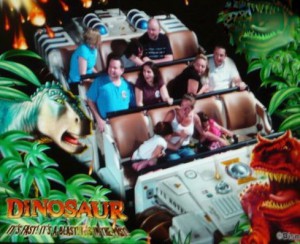 Picture of my wife and I riding Dinosaur!